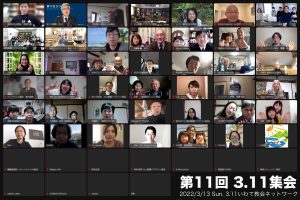 The "11th Annual 3.11 Gathering" for the year 2022 was held online on Sunday, March 13, from 1:30 p.m. Although we did not publicize the event this year, about 90 participants from Singapore, Hong Kong, and the U.S., as well as from within and outside of the prefecture, gathered for the event (the Christian Newspaper covered the event, which will be published soon).
Pastor Kondo, the representative of the network, gave a greeting, followed by an introduction of the work and prayer requests from various places along the coast, and Pastor Taguchi of Morioka Tsukigaoka Church offered prayer on behalf of the participants.
After a praise service with harp performance by missionary Catherine Porter, who had been based in Miyako for a long time (her current base is Sendai City), Pastor Otsuka delivered a message. Pastor Otsuka was one of the core members of the network when it was established, but this spring the Lord led him to leave Iwate and move to Kyushu, so this was his last opportunity to speak at the network. He spoke about his pioneering evangelistic work in the Southern Morioka that began before the earthquake, what he was taught through the disaster, and what he has treasured, along with nostalgic photos.
After the message, the participating churches were introduced as usual, and a time of prayer was held in the breakout room.
Finally, Rev. Kondo gave a report on the future network. In particular, Pastor Mitsuru Saito of Ofunato Grace House Church will join the core members in place of Pastor Otsuka who is leaving Iwate, and he and Pastor Kondo and Pastor Sasaki will serve together for fellowship and cooperation, and will be responsible for dealing with external affairs.
We would appreciate your continued prayers for the 3.11 Iwate Church Network's work in the coastal areas affected by the disaster and throughout Iwate Prefecture.